Be Prepared
Test your case with jury-qualified participants, in the case venue, to get valid, representative feedback
How are Attorneys and Organizations using OnlineVerdict?
What are the benefits of online research?
COST
Traditional face-to-face focus groups cost anywhere from $40,000-$100,000+ . With access to a national pool of potential jurors and online survey system designed by experienced trial consultants, OnlineVerdict is able to provide jury research services at a fraction of the cost. In an era where attorneys have to be mindful of litigation expenses, online research is the perfect solution.
OnlineVerdict focus groups save on the following costs:
FLEXIBILITY
Online research provides both the attorney and participant the flexibility of posting and reviewing case information from the comfort of their own computer. Attorneys also have the ability to test only certain elements of their case, their opening or closing, and/or visual support.
TIMELINESS
Squeezed for time? Feedback from 25-100 jurors can be gathered within hours or days, compared to several weeks to prepare for a live focus group. Reports and summaries are generated instantaneously. So, whether you are in discovery or on the eve of trial, online research can improve your trial preparation.
CONFIDENTIALITY
We employ several methods to keep an attorney's work product privileged and confidential. As jury consultants, our work is protected under the attorney-client privilege. In addition, all jurors must sign digital confidentiality agreements to keep all case-related information confidential.
How Online Quantitative Surveys Work
Conducting online jury focus groups is as easy as a few clicks on your computer.
Create balanced case summaries (text, audio or video) including demonstrative exhibits. OnlineVerdict will review the summary, upload the case, design the questionnaire, invite pre-screened participants who match the case venue demographics, and provide a report of the results. See gallery below for more details.
How Do Recruiting Services Work
Complete the form indicating the date, time, and venue of the study. Let us know the number of participants you would like to attend and any screenout information. OnlineVerdict then assembles a group of jury-qualified participants that match the venue demographics. A list of the participants with their demographic information will be provided 1-2 days prior to the study. As an additional service, OnlineVerdict can pay the participants as well.
To request a recruit, complete the form.
We will confirm the specifics and get started.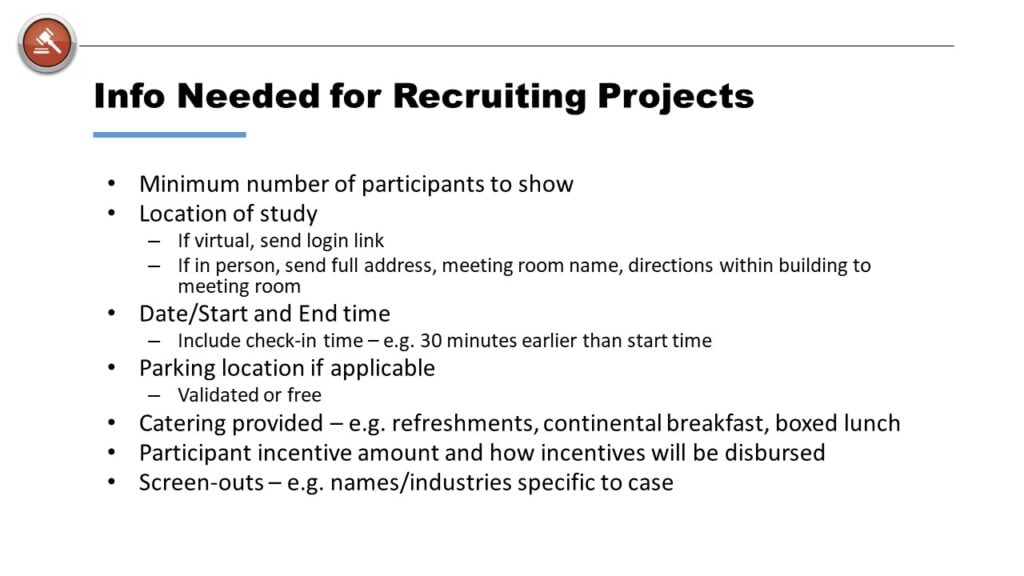 Trial Consulting Services
OnlineVerdict was created by trial consultants with years of litigation experience. Our consultants have helped hundreds of litigators by providing recommendations to improve all aspects of their case.
OnlineVerdict users have the option of having one of our experienced jury consultants review your case, analyze juror feedback results, and provide assistance with case strategy. Some of the options available to you include:
Case Story and Theme Development
A jury consultant will review your OnlineVerdict.com feedback and provide suggestions in a written report for development of your case story and supporting themes.
Opening Statement and Closing Argument Assistance
A jury consultant will review your opening statement or closing argument, or develop an outline for you based on your OnlineVerdict.com feedback.
Voir Dire Questions
A jury consultant will review your OnlineVerdict.com feedback and generate 25 case-specific voir dire questions for trial.
Jury Profiles
A jury consultant will statistically analyze your feedback data for jury profiling potential.
Jury Selection Assistance
A jury consultant will assist with in-court jury selection reviewing questionnaires, providing voir dire suggestions and selection strategy.
Focus Group or Mock Trial
If this research was an introduction to your case analysis and you would now like to further test your case arguments, themes and facts in front of live jurors, we can conduct this research for you.
Courtroom Graphics
Our experienced trial graphic designers will review your OnlineVerdict.com juror feedback and make strategic visual recommendations and/or develop persuasive, high-impact graphics that will convey your message to jurors.
Frequently Asked Questions